The 2017 MLS Season Is Ready To Roll!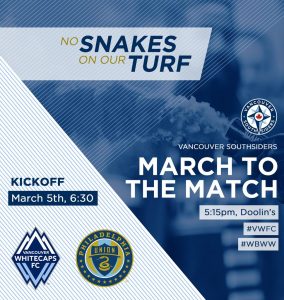 The day we've all been waiting for is FINALLY here! First kick for the 2017 season is Sunday March 5th as your Vancouver Whitecaps take on the Philadelphia Union at BC Place!
The Whitecaps hope to keep the momentum going after Thursday evening's HUGE CCL win against the New York Red Bulls.
The Southsiders will officially kick off the season at Doolin's Irish Pub starting at 2pm. All-ages at The Belmont opens at 3pm. Roxy Burger will be open starting at 11:30am.
Food specials for Sunday at Doolin's include:
– Grilled Maui Ribs with fries & coleslaw for $13
– Wonton Prawns with sweet chilli sauce for $11
– Giant baked potato topped with bacon, corn salsa, broccoli, Queso sauce, sour cream & scallions for $9
Drink specials at Doolin's include:
– Red Nitro $6.75 / 20oz Pint
– Stanley Park $6.25 Doolin's | $6 Belmont
– Goose Island IPA $6.75 Doolin's | $6.50 Belmont
– Honkers Ale $6.75 Doolin's
– Turning Point Cider $6.75
– Bottles of Stanley Park Noble Pilsner $5 | Bucket of 4 for $19
PRIZE ALERT!!!
On Sunday we will be running a couple promos through Doolin's:
– 50/50: Spend big, win big! Proceeds from the 50/50 will be donated to our#Talk4Erin campaign
– Member prize: All Southsiders members will receive a ballot with purchase to enter into the draw for a VIP away viewing party in the Doolin's's VIP room upstairs. Prize includes 2 drinks per person and complementary applies!
– Beer Chugging Contest! (Yes, you read that correctly!) Entry is free for participants and the winner will receive a $20 Doolin's gift card. This promo will run twice throughout the day so don't miss out!
Membership will be open at Doolin's from 2pm through 5pm. If you have any questions regarding membership, contact Aaryn at membership@vancouversouthsiders.ca.
The merch table will also be open. Times TBA. If you have any specific questions about merch, contact Darcie at merchandise@vancouversouthsiders.ca.
Let's fill Doolin's, The Belmont and Roxy Burger to capacity on Sunday!
Let's get LOUD, cheer our boys in Blue and White (and TRIANGLES!) on to victory and bring home 3 points!
The March To The Match leaves Doolin's at 5:15 SHARP! We'll be there! Will you?!