A Letter From Doolin's Irish Pub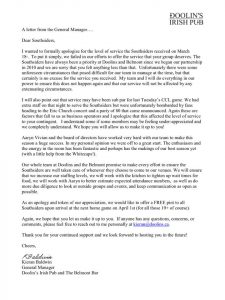 Hi there Southsiders, please click the image to the left to read a very important letter to our members from the General Manager of Doolin's Irish Pub. There's free beer in your future if you do!
Thank you very much to Doolin's for acknowledging the importance of our partnership, and for making us feel right at home, day in and day out. This letter was a very classy way to respond to some recent concerns. The gesture is sincerely appreciated.
Part of being #bettersupporters means recognizing members and partners alike who put in the extra effort to improve the match day experience for everyone. As such, we wish to thank all the staff at Doolin's for doing their best under difficult circumstances. We love all of you ladies and gentlemen, and we are very grateful for everything you do. We shall see you soon! #WBWW