MLS Round 23: San Jose Earthquakes
Home Game Day Info
Saturday, July 20th, Kickoff 7:00pm
A sodden and demoralized Whitecaps managed to match their performance to the frightful weather in Massachusetts on Wednesday night, getting hammered 4-0. Perhaps they were betting on the flash flood warning issued for Foxborough postponing the proceedings, but there was no such luck, and no emergency flotation devices to be found either. The Caps are sitting like a stone at the bottom of the west with the added bonus of having played more games than any other team in the conference.
Saturday another natural disaster appears in the form of the San Jose Earthquakes. The bay area team is halfway decent this year and on a recent streak that's as good as the Whitecaps have been bad. Brace yourselves*.
Referee Assignments
REF: Silviu "Screams of Anguish" Petrescu
AR1: Brian "Inchoate Bellows" Dunn
AR2: Gianni "Silent Weeping" Facchini
4TH: Alejandro "Passive Aggressive Tweets" Mariscal
VAR: Tim "Unintelligible Facebook Rant" Ford
AVAR: Kevin "Carefully Feigned Disinterest" Klinger

http://proreferees.com/2019/07/16/2019-mls-assignments-week-20/
Previous Results
Vancouver Whitecaps FC: 4W – 8D – 10L, 20pts, 12th place MLS West
Whitecaps FC form: D-L-L-L-L
San Jose Earthquakes: 9W – 4D – 7L, 31 pts, 5Th place MLS West
Urfcakes form: W-W-L-W-W
Pre-Match At
Library Square Public House, 300 W Georgia St – all ages on Whitecaps game days!
Southsiders Itinerary
11:00am – Library Square opens
4:00pm – Pre-match gathering starts
6:00pm – March leaves Library Square near Georgia & Homer
7:00pm – Game kicks off
9:00pm – There's no crying in baseball! But maybe there should be?
March Route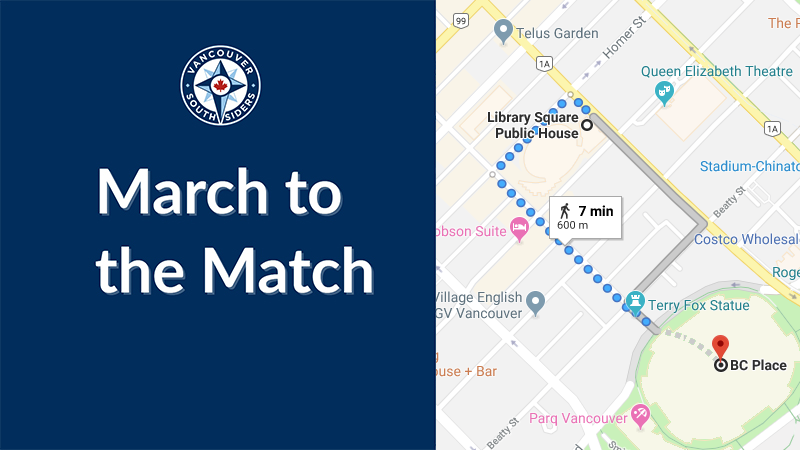 *😬