MLS Round 21: Sporting Kansas City
Home Game Day Info
Saturday, July 13th, Kickoff 7:00pm
The Whitecaps are hosting the Sportings from Kansas or Missouri or maybe both (but definitely not neither). Taking a look at SKC we see another team struggling to find wins and deciding to attempt to draw their way into the playoffs. Sound familiar? Maybe because on the surface, SKC's season is looking a lot like the Whitecaps season, from the standings down to recent results. This match has been dubbed by some* as the "2019 Recently Whipped by LAFC Memorial Match". The Sporks got handed a 5-1 drubbing a mere three days before the Whitecaps marched down to LA for their 6-1 loss. What does this mean for Saturday?
¯\_(ツ)_/¯
Referee Assignments
REF: Ramy Touchan
AR1: Chris Wattam
AR2: Andrew Bigelow
4TH: Mark Allatin
VAR: Alex Chilowicz
AVAR: Mauricio Navarro

http://proreferees.com/2019/07/09/2019-mls-assignments-week-19/
Previous Results
Vancouver Whitecaps FC: 4W – 8D – 8L, 20pts, 11th place MLS West
Whitecaps FC form: D-D-D-L-L
Sporting Kansas City: 5W – 7D – 7L, 22 pts, 10th place MLS West
Spoon Forks form: D-W-L-L-W
Pre-Match At
Library Square Public House, 300 W Georgia St – all ages on Whitecaps game days!
Southsiders Itinerary
11:00am – Library Square opens
4:00pm – Pre-match gathering starts
6:00pm – March leaves Library Square near Georgia & Homer
7:00pm – Game kicks off – two teams enter
9:00pm – One team leaves
March leaves at 6pm from Library Square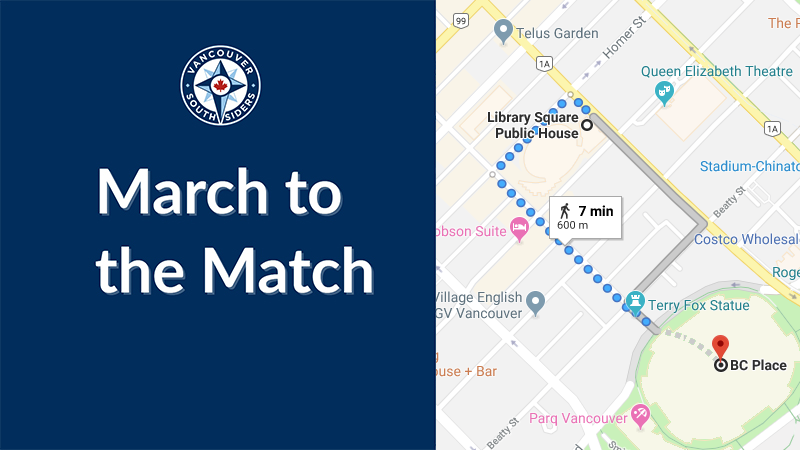 *in this case, "some" means just 1 person. Me.