MLS Round 11: Portland Timbers
Home Game Day Info
Friday, May 10th, Kickoff 7:00pm
The Whitecaps went to Colorado and throttled a road win out of the bedraggled Rapids! In the Toilet Bowl, we reigned supreme! Unfortunately for us, our leap-frog up the table was short lived, as Portland also put together a win on the road against the salty lakers.
It's a Cascadia Cup match-up for us this week, meaning we need our boys dialed in and ready to go. Portland have won three in a row, all on the road, as their home stadium gets a face lift. Too bad for them they're losing on Friday. ¯\_(ツ)_/¯ Sorry, eh?
#walkout35 – Protest walkout called for again Friday
As some of you may have seen, the start of this week has been a busy one for Whitecaps supporters. Monday evening, we met with Ciara McCormack and Curva Collective, and Tuesday evening Rain City Brigade, Curva Collective and Southsiders board members met with Whitecaps executives and minority owner Jeff Mallett.
We went into the meeting with the Whitecaps with some objectives we wanted to accomplish with them and questions we wanted answered, and unfortunately we did not get what we hoped for.
Despite the private meeting held with supporters, the communications from the Whitecaps have not changed since their May 1st statement.
We, along with the Curva Collective, are once again calling for a walkout at the 35th minute of the game, to watch the remainder of the first half on the concourse as we have done on April 17th and April 27th. We are calling for the walkout, showing solidarity with the former Whitecaps and U20 National Team players who have come forward with their stories of abuse, for the following reasons:
The desired meeting between the former players and Whitecaps ownership, without involvement of the Whitecaps executives, is still not happening as requested.
We disagree with the media strategy, consisting primarily of silence, that the Whitecaps are using, and encourage them to openly and promptly answer questions from all media.
We want to highlight the issue of athlete safety, and encourage everyone to look into the work being done nationally and provincially right now. Pitch in if you're able. For more info search for #safeSport and #safeSportAthletes on social media, and look to the work being done by AthletesCAN (https://athletescan.com/en) and VIASport (
https://www.viasport.ca/)
As always, this protest is aimed at our continued displeasure at how the Whitecaps executives have responded to the ongoing scandal brought to light by Ciara McCormack's February 25th blog post and the former U20 Women's National Team players. We have been keeping our tracking page updated if you want to review what's happened so far:
https://vancouversouthsiders.ca/2019/04/a-horrific-canadian-soccer-story-recent-timeline-and-links/
Referee Assignments
REF: Allen Chapman
AR1: Logan Brown
AR2: Michael Kampmeinert
4TH: Elvis Osmanovic
VAR: Silviu Petrescu
AVAR: Joshua Patlak


http://proreferees.com/2019/05/08/2019-mls-assignments-week-11/
Cascadia Cup Standings
Vancouver Whitecaps: 0W – 1D – 0L, 1 pt
Seattle Sounders: 0W – 1D – 0L, 1pt
Portland Timbers: 0W – 0D – 0L, 0pts
Previous Results
Vancouver Whitecaps FC: 2W – 3D – 5L, 9 pts, 10th place MLS West
Whitecaps form: D-W-L-D-W
Portland Timbers: 3W – 1D – 5L, 10 pts, 9th place MLS West
Lumber-oafs form: L-L-W-W-W
Pre-Match At
Library Square Public House, 300 W Georgia St – all ages on Whitecaps game days!
Southsiders Itinerary
11:00am – Library Square opens
4:30pm – Membership table opens at Library Square
5:45pm – Membership table closes
6:00pm – March to BC Place
7:00pm – Game kicks off
35th minute – protest walkout until half-time
9:00pm – One barge-full of northern bleached softwood kraft pulp coming out of BC Place in a hurry!
March route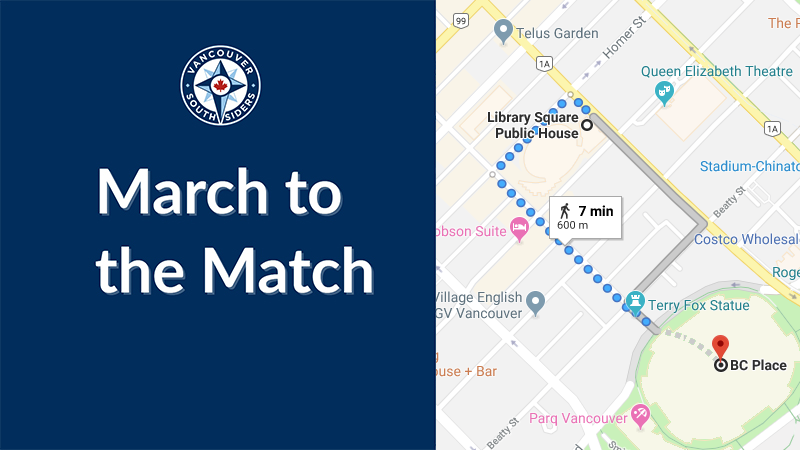 *There isn't a corresponding asterisk to this footnote.