MLS 2019 Round 1: MNUFC
Home Game Day Info
Saturday, March 2nd, Kickoff 3:00pm
It's finally here! The first competitive match of the Marc Dos Santos era will be played against the Loons aka Minnesota United. The long off-season, with its litany of roster and technical staff changes, will finally be behind us. And what lies ahead?
MDS has stated that despite the team barely having had a full week training as an entire unit that they will be going full throttle on the pitch. Marc wants a team that fights for every point and runs our opponents ragged, particularly at home. Fill your lungs and lift up our players when they need it most, because Saturday is sure to be a barn burner. Together we can make BC Place a stadium where no opposing team wants to play.
Referee Assignments
REF: Rubiel "Blood Diamond" Vazquez
AR1: Mike "Small Stench" Rottersman
AR2: Andrew "Huge 'n Short" Bigelow
4TH: Alejandro "One of Many" Mariscal
VAR: Edvin "Zoom and Enhance" Jurisevic
AVAR: Rene "Zzz" Parra

http://proreferees.com/2019/02/26/2019-mls-assignments-week-1/
Previous Results
Vancouver Whitecaps FC 2018 season: Why bother looking? The team has had approximately 99% turnover
Minnesota United FC 2018 season: Worse than the Whitecaps, and I have no idea how many players they exchanged
Pre-Match at:
Southsiders Itinerary
9:30am – Membership table opens at Library Square. Note that in the event that the venue is at capacity, look towards the patio area for easier to access membership sign-up and scarf distribution!
1:30pm – Settle your bills & get ready for the march
1:45pm – Membership table closes
2:00pm – March gathers and heads out from plaza near Georgia st and Homer st
3:00pm – The 2019 MLS season kicks off!
5:00pm – 3 points and MLS Cup here we come, guaranteed*
March Ettiquette
Bring we're here for a party, not a riot. We march to show our pride in our city. Don't cover your face with a scarf or bandanna. Wave a flag, join in the chants and get ready to rock our home stadium!
March route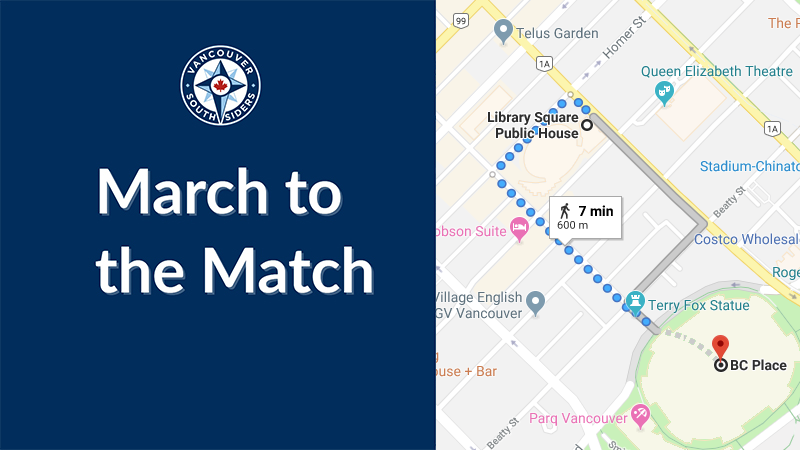 *guarantee not valid anywhere, anytime… but keep hope alive