March to the Match Route
First kick is upon us and what would the home match day experience be without a March to the Match?!
After our partner pub announcement, many of you had questions about the March and we are happy to report that earlier today we were finally able to finalize the route!
On Sunday March 4th, the Southsiders will be marching from Victory Square  with special guest March Leader, Whitecaps Legend Carl Valentine!  The March to the Match will depart at 1:45pm from the corner of Hamilton & West Pender, heading southbound on Hamilton to Robson Street / Whitecaps Way and into BC Place via Terry Fox Plaza.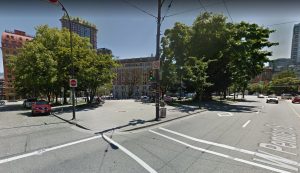 As we will not be marching from Blarney Stone directly, members are encouraged to settle their tabs at the pub by 1:30pm on Sunday so they can make their way over to Victory Square to meet up with their fellow supporters and get ready to cheer the boys in Blue and White to 3 points and victory!