2018 First Kick – Getting You Ready for Sunday
New Southsiders Pub The Blarney Stone
The day we've all been waiting for is FINALLY here! First kick for the 2018 season is Sunday March 4th as your Vancouver Whitecaps take on the Montreal Impact at BC Place!
The Southsiders will officially kick off the season at The Blarney Stone starting at 11am. All-ages welcome!
Membership and Merchandise tables will be open at Blarney Stone from 11am to 1:30pm. If you have any questions regarding either, please contact Brendan at membership@vancouversouthsiders.ca or
merchandise@vancouversouthsiders.ca.
Let's give the Blarney Stone an official Southsiders welcome and fill it to capacity on Sunday!
Let's get LOUD, cheer our boys in Blue and Whi….err, GREY on to victory and bring home 3 points!
March to the Match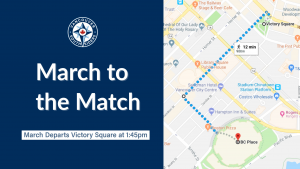 First kick is upon us and what would the home match day experience be without a March to the Match?!
After our partner pub announcement, many of you had questions about the March and we are happy to report that earlier today we were finally able to finalize the route!
On Sunday March 4th, the Southsiders will be marching from Victory Square with special guest March Leader, Whitecaps Legend Carl Valentine! The March to the Match will depart at 1:45pm from the corner of Hamilton & West Pender, heading southbound on Hamilton to Robson Street / Whitecaps Way and into BC Place via Terry Fox Plaza.
As we will not be marching from Blarney Stone directly, members are encouraged to settle their tabs at the pub by 1:30pm on Sunday so they can make their way over to Victory Square to meet up with their fellow supporters and get ready to cheer the boys in Blue and White to victory.
Food and Drink Specials
Need a little extra incentive to come check out our new Home of the Southside, the Blarney Stone, on Sunday March 4th?
Stuffed French Toast: Sourdough stuffed with cream cheese and strawberries, fried golden brown. Served with real maple Syrup and whipped cream | $11
Breakfast Poutine: Crispy hash browns covered with mixed cheese, tomatoes, green onions, & 2 sunny side up eggs | $10
Irish BAP: Fried egg, Irish back bacon, cheddar, on an english muffin. Served with home fries | $8
Beggars Breakfast: Two eggs (scrambled, fried, or poached) served with home fries, and your choice of Irish bacon, bacon or sausage | $8
Irish Breakfast: Two eggs (scrambled, fried, or poached), served with home fries, grilled tomato, banger sausage, Irish bacon, black pudding | $12
Seared Ahi Tuna Salad: Sesame crusted Ahi loin on a bed of mixed greens w/ tomato cucumber & a sherry vinaigrette | $14
Pesto Chicken Flatbread: Pulled chicken with tomatoes, feta, & mozzarella cheese on basil pesto crispy flat bread | $13
FREE PANCAKES FOR ALL KIDS 13 AND UNDER!
Drink Specials
SouthCIDER: Sunday's Gulf Island Cider | $6.50
Steamworks IPA | $6.25
Guinness | $7.25
Red Truck Lager | $6.25
Budweiser | $5.75
Alexander Keith's IPA | $5.75
Shots of Jameson | $5.75
Irish Caesars (Traditional Caesar kicked up a notch with a splash of Guinness) | $5.75
First Kick Parking Situation
Worried about parking for first kick? Here's some info for you:
The parking partnership with Advance Parking is still valid at Metropolitan Towers on Nelson and Seymour for $6 from 10am to midnight on match days. There are Southsider rates for non-match days as well. Please check our Membership benefits page when logged into the site for full details. If you need a code, please contact Aaryn at events@vancouversouthsiders.ca
If you're looking for parking close to our new partner pub in Gastown, the Easy Park lot at 107 East Cordova offers a $6.50 rate for 6am to 6pm on Saturdays and Sundays ($8 flat rate from 6pm to 6am.) The Easy Park lot is gated from midnight on Saturday nights to 8am Sunday mornings and from 10pm Sunday night to 8am on Monday so please be aware that if you park there for first kick, you WILL have to pick up your vehicle before 10pm.
We will keep you updated on whether Advance Parking is able to open up any additional spots closer to Blarney Stone as information becomes available to us.
Southsiders GA – Single Game Tickets
The Southsiders are selling single game tickets to the Southsiders GA section $37 for members $39.50 for non-members. (this is matching TM face value with as minimal fee for non-members as possible) There will be a members only pre-sale period for each game, Montreal is open for public now.
http://vancouversouthsiders.ca/shop/matchticket
Home match tickets in the Southsiders section of BC Place Section 252-253 in our GA area. Tickets will be available for download 2-3 days before the game. Individual ticket holder names must be registered for each ticket. The GA "section" is the majority of seats (120+) from the following area: Section 252 Row G-V Seats 101-107 and Section 253 Row G-V Seats 1-7.