JULY 1: #BetterSupporters Celebrate Canada Day Together!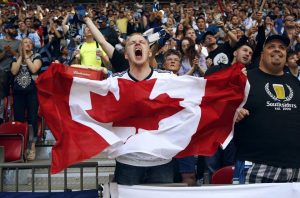 Join the Vancouver Southsiders for their official #CapsOnTV away viewing party as the Caps visit Bastian Schweinsteiger and the Chicago Fire at Toyota Park! Festivities kick off at Doolin's at 3pm, and the match KO is set for 4pm.
Food & drink specials TBA. Burn Your Bill will be in effect!
Merch and Membership will be available BY REQUEST ONLY.
If you would like to pick up, purchase or renew your membership, please email Aaryn at membership@vancouversouthsiders.ca.
If you have a specific merch request, please email Darcie at merchandise@vancouversouthsiders.ca.
All emails MUST be received prior to 4:00 pm on Friday June 30th.
All-ages viewing for the young 'uns will be available at Roxy Burger.
#BetterSupporters take a break from the sunny holiday weather to rehydrate, support the Caps, and celebrate #3pts!