AUGUST 18: BC Lions v Calgary Stampeders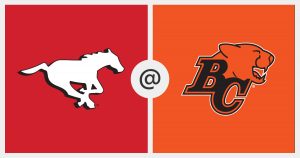 Join the Southsiders on Friday August 18th as they visit the SECOND best sporting atmosphere in Vancouver as the BC Lions face off against the Calgary Stampeders!
For those of you unfamiliar with Club Orange, it is an exclusive lounge located on the 300 level of the north end of BC Place. You will enjoy impressive views of the stadium from any seat with a live DJ and exclusive drink specials. Tickets for this event are $47 all-in ($49 online) and include an item of BC Lions merch!
Club Orange is 19+. Valid ID required.
The game kicks off at BC Place at 7:00 pm. The Southsiders official pre-game party will commence at 5:30pm at Doolin's Irish Pub.