SATURDAY: "Tonight we're gonna party like it's 1812!"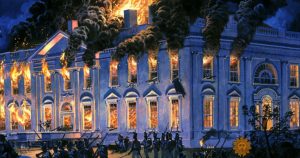 CALLING ALL SOUTHSIDERS! Our 'Super Soccer Homecoming' concludes this Saturday as DC United visits BC Place to take on your Vancouver Whitecaps! Join the Southsiders for their official pre-match party at Doolin's Irish Pub. Festivities kick off at 1pm and there will be food and drinks! What more could one ask for?! Well, three points. We could ask for three points. But more on that later.
NOW ANNOUNCING YOUR STARTING FOOD & DRINK LINEUP FOR SATURDAY!
Food:
– Beer Can Chicken Sandwich on a Pretzel Roll w/ Caramelized Onions & White Cheddar, served w/ Fries | $13
– Cajun Chicken Caesar Salad w/ Grana Padano Cheese | $14
– Lamb Tikka Masal w/ Basmati Rice | $15
Drinks:
– Granville Island Belgian Saison | $6.75
– Broken Ladder Cider | $7.25
– Goose Island IPA | $6.25
– Honkers Ale | $6.25
– Bottles of Stanley Park Pilsner | $5 or Bucket of 4 | $19
– Blue Berry Bombs | $6.25
MERCH UPDATE! There will be NO MERCH TABLE AT THIS EVENT. If you have merch requests, please email Darcie at merchandise@vancouversouthsiders.ca .
Membership purchase and pick up will NOT be available at this match. If you would like to arrange pick up any time between now and May 30th, please contact Aaryn at membership@vancouversouthsiders.ca.
The march will depart Doolin's at 2:45pm SHARP! #BetterSupporters settle their tabs and meet on the corner of Nelson & Granville on time. You won't want to miss this sunny march to the match! After all, there are #3pts on the line! #WBWW