Join us for Cinco de Mayo and #CapsOnTV!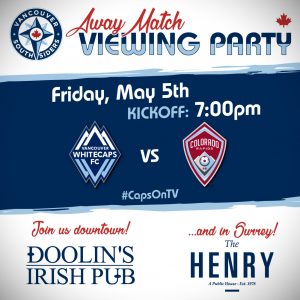 It's another #CapsOnTV away viewing… now with more Tequila!
Join the Vancouver Southsiders this Friday for their Cinco de Mayo official away viewing party as the Whitecaps visit Colorado to face the Rapids!
Party starts at 6pm in the Back Bar at Doolin's, and the match kicks off at 7pm. There will be some fun Cinco de Mayo food & drink specials so keep your eyes open to this page for updates throughout the week!
Membership and merchandise will be available BY REQUEST only!
If you would like to pick up your membership package or renew, please email Aaryn at membership@vancouversouthsiders.ca
If you have a specific merch request, please email Darcie at merchandise@vancouversouthsiders.ca.
Emails MUST be received prior to midnight on Thursday May 4th to ensure adequate time to prepare your request(s).
Let's spend our Friday nights doing what we do best – Cheering on our boys in Blue and White to victory!
SOUTH OF  THE FRASER: Don't forget that we have a growing community of Southsiders who enjoy #CapsOnTV at The Henry in Cloverdale! See you there!
#3pts #WBWW #BetterSupporters