General Admission Survey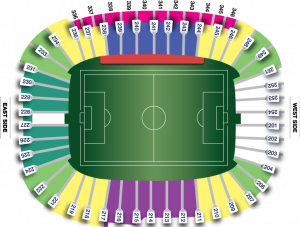 There has been much speculation on social media about the possible introduction of General Admission areas to the supporters end of BC Place. Some of you have also received an e-mail from the Whitecaps seeking your feedback on a scenario in which all seats in the "White" price tier would be reclassified as GA.
This seems like a good time to set the record straight.
We can confirm that the Vancouver Southsiders executive board and representatives from Curva Collective are working together to explore the feasibility of creating a GA section (or sections) in the supporters end from existing seating areas at BC Place, or possibly by adding new ones. We have not submitted any proposals to the Whitecaps yet, though we hope to at some point in the future after hearing from our membership.
We recognize there are many different ways which GA could be implemented. The size, location and right of access to any new GA section are huge factors that need to be thoroughly researched. The impacts on our members, both positive and negative, also need to be considered very carefully. Any changes to the status quo would also require the endorsement of the Whitecaps front office.
This survey (which is not the same as the one sent out by the Whitecaps) provides you with an important opportunity to share your thoughts, concerns and feedback before we proceed any further. As a current (or recent) Southsiders member your voice deserves to be heard. Please spare a few minutes of your time to help us understand what works best for you.
Click here to begin the survey.
We're Blue, We're White,
Your Vancouver Southsiders Executive Board