FRIDAY: Houston? No problem!
J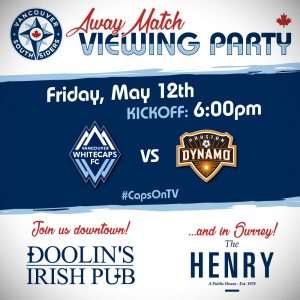 oin the Vancouver Southsiders for their official #CapsOnTV and #KrisOnTour away viewing party as the Caps visit Houston Dynamo!

Kick off is scheduled for 6:00 pm. Plan to get to Doolin's Irish Pub early as downtown Vancouver will be VERY busy with the U2 concert happening at BC Place that night. The Back Bar will be reserved for Southsiders. Food and drink specials TBA.

Membership packages can be picked up or purchased BY REQUEST ONLY any time between 6:00 pm and 8:00 pm. Please email Aaryn at membership@vancouversouthsiders.ca to arrange for pick up.

Merchandise table is TBA. If you have any specific requests, please email Darcie at merchandise@vancouversouthsiders.ca.

All merch and membership requests MUST be received prior to midnight on Thursday May 11th.
SOUTH OF THE FRASER: Don't forget that we have a growing community of Southsiders who enjoy #CapsOnTV at The Henry in Cloverdale! See you there!
#3pts #WBWW #BetterSupporters