Let's Get "Real" On Super Sportz Saturday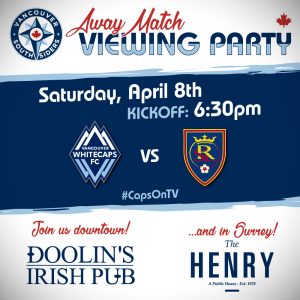 The Whitecaps VERY condensed week of fixtures comes to a close on Saturday April 8th as they head to Real Salt Lake.
The official Southsiders away viewing party will kick off early and include the WFC2 match at 3 pm as well as the RSL match at 6:30 pm.
Come on down to Doolin's, grab yourself a seat and get ready for Super Sportz Saturday!
For those of you heading out to Langley for the WFC2 "home" opener, we'll save you a spot at Doolin's for the Caps' KO!
BURN YOUR BILL will be in effect so make sure you're ordering off the Southsiders' special menu and maybe you will be the lucky one having Doolin's pick up your tab on Saturday evening!
SOUTH OF THE FRASER: If you feel downtown is a bit too far of a journey from the 'burbs, perhaps we will see you at The Henry, our new pub partner in Surrey? Great deals and prizes await! Let's get our little enthusiastic "bridge n' tunnel folk" behind the Caps! If you want to be #bettersupporters, you need to help build the community around you. See you soon!