Holy Shirt! Merch Madness Begins FRIDAY!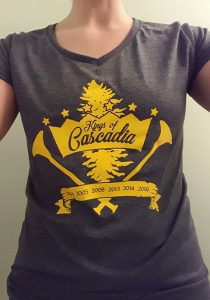 Oh my! There will be deals a-plenty at our merchandise table at Doolin's on Friday evening when we unleash this fantastic beast of a T-shirt on the unsuspecting public!
This limited edition Kings Of Cascadia design you see here will be available in all adult sizes in men's and women's cuts. It's just $20, which works out to 12% of the cost of a VWFC triangle jersey. What means more to you as a supporter? Celebrating our Cascadian glory, or… umm… weather-inspired geometry?
While we are at it we also have the 2016 summer weight Southsiders bar scarf on sale this month for just $10, and our Cascadia "Since 1999" patches are on sale for $4.
We shall see all of you #bettersupporters at Doolin's before the Battle With Seattle. Any questions? Message Darcie at merchandise@vancouversouthsiders.ca