Get Stuck In With Our Southsiders Sweepstakes!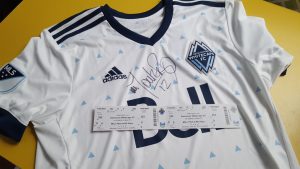 Those of you who have been with us for a while know that the Vancouver Southsiders try to give back to our community by supporting meaningful charitable initiatives.
Our latest fundraising project comes in the form of a raffle with some great prizes:
First Prize: An autographed VWFC jersey (size medium) signed by none other than Fredy Montero himself! This will look great whether you are wearing it on our March To The Match, or displaying it on the wall of your home or office. You may also want to consider hanging it from the rafters of a certain supporters bar in Seattle, as it will match nicely with the #CapsOnTour sign they stole from one of our buses. No worries – they kept the sign, but we kept the points.
Second Prize: A pair of tickets in the Southside (Section 252 Row G) for our first ever home match against Atlanta United on Saturday June 3!
Third Prize: A once in a lifetime romantic railway adventure to see the Cascadian mountain range! Disclaimer: This *might* just mean SkyTrain tickets from Waterfront to King George and back, but still!
How To Enter:  Log in to your Southsiders account and purchase tickets online right now (click here). You can also buy tickets in person with cash at Doolin's during our April 22 #CapsOnTV event for the Portland away match.This date coincides with our Freedom & Cookies For All upstairs / downstairs party which is going to be a full afternoon of awesomeness. Tickets are $5 each or three for $10.  We will hold the draw immediately following the Portland match.
You do not need to be present on April 22 to claim your prize (though it would be great if you were). Hope you heard that, out of towners! We're trying to include you guys and gals in our give-aways more often, so don't miss your chance to help support your community of #bettersupporters from afar!
Questions? Please contact Darcie at ops@vancouversouthsiders.ca