Away Viewing: VWFC @ San Jose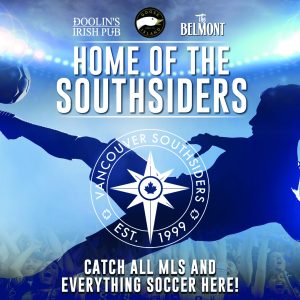 We're back at it again this weekend as the Whitecaps visit San Jose in what will surely be a more exciting match than last weekend!
The official Vancouver Southsiders away viewing party kicks off at 6pm at Doolin's. The match kicks off at 7pm.
Our membership table will be open from 6pm to 7pm, at half time, and post-match. If you have any questions regarding Membership, please contact Aaryn at membership@vancouversouthsiders.ca.
Merch table is TBA. If you have any specific requests for Merch pick up for this viewing party, please contact Darcie at merchandise@vancouversouthsiders.ca.
Stay tuned to our Facebook events page throughout the week for updates on our food and drink specials for Saturday! Also a reminder that the "Burn Your Bill" promo will be in effect for this match so make sure you're there early and pick up as many ballots as possible! The more Southsider specials you order, the more ballots you get and you may just be the lucky one who has Doolin's pick up your tab that evening!