VWFC Champions League Viewing Party!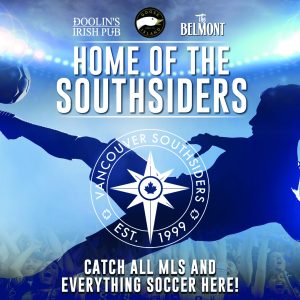 Attention Southsiders!
CONCACAF Champions League matches kick off this week with your Vancouver Whitecaps heading to New York to face the Red Bulls tomorrow on Wednesday February 22nd. The official Southsiders away viewing party will be at Doolin's Irish Pub.
• Kickoff is at 5:00pm – The Back Bar at Doolin's is reserved for the Southsiders.
• Membership table will open at the Back Bar at half time. Membership package pick up and new sign-ups will be available until 8pm.
• Don't forget you can sign up for membership online BEFORE you come to the viewing party (and we strongly encourage you to do so!). Please click here to get things rolling!
• All of our membership perks will be available for this event, including:
– 25% discount on food, featuring our NEW & IMPROVED sports event menu!
– NEW! Featured food special – Bacon Wrapped Meatloaf $14
– NEW! Local Craft Beer Rotator – $6.75 for a 20oz Pint of Stanley Park Red Eye Nitro
– NEW! Local Craft Cider Rotator – $6.75 for a 20oz Pint of Turning Point
– NEW! Bottles of Stanley Park Pilsner – $5 | Bucket of 4 – $19
– Goose Island IPA – $6.75 for a 20oz Pint
– Honker's Ale – $6.75 for a 20oz Pint
– Budweiser – $6.25 for a 20oz Pint
• This will be your first opportunity this year to win the SOUTHSIDERS BURN YOUR BILL promo! This means that one very lucky Southsider will have Doolin's picking up their tab (up to $75!) on Wednesday night!
Stay tuned for future news for specifics on our Craft Beer & Cider rotators!
Viewing appears to be unavailable at Roxy Burger for this match, but game day specials will still be in effect, including a 25% discount on food, $4 Southsiders Pints and our NEW cider promo, $5 Pints of Lonetree!
Come on out & cheer on your Whitecaps!
If you have any questions, please email Aaryn at events@vancouversouthsiders.ca.