Statement from the Independent Supporters Council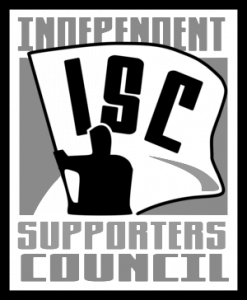 Southsiders,
Today the Independent Supporters Council (ISC) released a statement in support of our recent decision not to proceed with #CapsOnTour for the foreseeable future.
The ISC is urging other supporters groups in North America to exercise caution when travelling, and to show solidarity with members who cannot join them.
A copy of the statement has been reproduced below.
The original release is posted to the ISC website and can be found by clicking here.
Just a few weeks ago, Southsiders President Peter Czimmermann and Ombudsman Andrew Van Eden attended the ISC's annual conference, which was held in Atlanta this year.
We are proud to belong to this organization, which promotes supporters culture and advocates for fair treatment of supporters, both at home and on the road. The ISC also serves as a resource for member groups to share information about supporters issues. There are more than 30 member groups from across the US and Canada who support teams at all levels of professional soccer in North America.
"The Independent Supporters Council (ISC) stands with the actions of the Vancouver Southsiders soccer supporters group to limit their organized supporter travel and calls on all ISC affiliated groups to exercise a similar abundance of caution in protecting their members.

On January 27th 2017, the United States government announced the executive order titled "PROTECTING THE NATION FROM FOREIGN TERRORIST ENTRY INTO THE UNITED STATES", which amounts to an immediate travel ban that affects soccer supporters throughout North America. We believe that in these uncertain times it is absolutely critical that the leadership of North American soccer supporter organizations do all that they can to protect their members and stand in solidarity with supporters that may be affected.

Soccer was introduced to North America by immigrants, and our players and supporters come from every corner of the world. It is a global, inclusive game, and the ISC's charter is clear in our opposition to racism and bias in all forms. A selective travel ban introduces bias into the game that we love.

As a collective of organizations dedicated to the support and growth of soccer in North America, the ISC also respects those that still choose to travel to international away matches. We recommend that those who plan to travel for away matches take all necessary and legal precautions to protect themselves and others while travelling to and from the US.

While we are encouraged by the February 4th ruling from US District Court Judge James Robart suspending the executive order; we ask all supporters to remain cautious until the order has been fully rescinded. We recommend that supporters' groups refrain from ORGANIZED international travel and allow individuals to make decisions on their own."

About:

The Independent Supporters Council was founded in 2009 to advocate for the fair treatment of home and away supporters, promote supporters culture, and oppose both racism and bias inside stadiums in North America.