Home Sweet Home!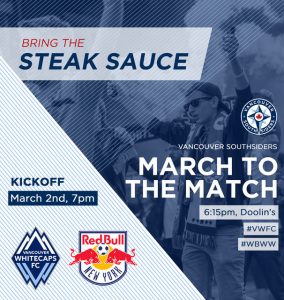 Calling all Southsiders! This is our first opportunity to get out and support our Vancouver Whitecaps at home in 2017! We need to get LOUD and come out in numbers to BC Place for the home leg of CCL action against the New York Red Bulls.
Membership table opens at Doolin's Irish Pub at 5:30pm and will be open until 6:15pm. The march will depart Doolin's at 6:15pm SHARP!
Keep your eye on our Facebook page during the next few days for updates on all of the amazing match day specials available for Southsiders.
This year, we've added craft beer and cider specials, a new food menu for event days and so MUCH MORE so make sure you head down to Doolin's early and check out all the new perks available for the 2017 season!
We'll be there! Will you?!
We also want to encourage all of our members to be #bettersupporters this season. You have all done a fantastic job so far, but there is still much more opportunity to be better, louder and greater than ever before.
What do #bettersupporters do?
#bettersupporters strengthen the Southsiders community by socializing at our match day partner venues.
#bettersupporters make an effort to meet and welcome new friends wearing our scarves.
#bettersupporters are in their seats well before kickoff to show the team we're ready to support them from start to finish.
Now who's with us? #WBWW