#CapsOnTour Making News EVERYWHERE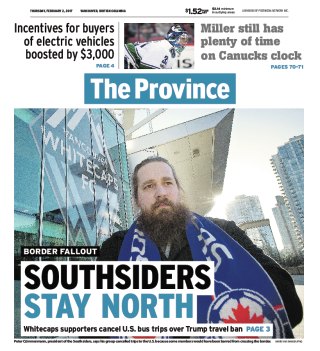 Our decision to stand in solidarity with members who are directly or indirectly affected by US travel restrictions and increasingly difficult examination procedures has resulted in unprecedented media coverage about our supporters group and what we stand for.
We have compiled some media links below for you to check out the many articles and broadcast items that featured Southsiders member Anna Namshirin, President Peter Czimmermann and Vice President John Knox.
We ask our members to never lose sight of the fact that being a Southsider means much more than cheering for the Whitecaps on a Saturday afternoon. We were founded on the principles of equality and inclusion, and every voice that sings with us at home deserves to be heard with us on the road as well.
We would also like to express our sincere thanks to Anna for sharing her family's story. You make us better, and you make Canada better. We are proud to call you one of our own.
We're blue. We're white. #WBWW
Television:
Print & Online:
Radio & Podcasts:
If we have missed anything, please let us know at media@vancouversouthsiders.ca