2017 Launch Party at The Belmont Bar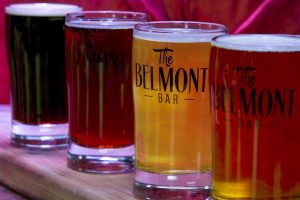 The Vancouver Southsiders welcome you to our 2017 launch party at The Belmont Bar on Saturday February 18. The fun gets underway at 3 pm. This is an all ages event – minors are welcome up until 6 pm.
This will be a fantastic opportunity to meet some new friends and reconnect with your BC Place seatmates. This season is all about the Southsiders family. We're in this together!
The Belmont Bar will be tapping a cask for us, and every guest over the age of 19 will receive a complimentary 16oz sleeve of beer upon arrival.
The Belmont Bar is also going to provide us with a complimentary preview of all their brand new menu items for 2017. Samples will be served from 3 – 5 pm on the house, and full servings will be available for purchase too.
At least one very special guest is confirmed to be joining us for the festivities, and we are working on a few other surprises as well. We have some great prizes in store, and you'll be able to pick up your membership scarves too. Haven't signed up yet? You can do that online now and pay in person at the party.
Click here to sign up or renew!
REMINDER: We will be collecting your cash donations for our #Talk4Erin fundraising campaign for @CrisisCentreBC. This is an organization that is doing tremendous work in our community, and we are proud to support their efforts. Every little bit helps, so let's round up those loonies and two-nies for a very worthwhile cause!
Questions? Please contact Aaryn Vivian at events@vancouversouthsiders.ca