Happy new season from your president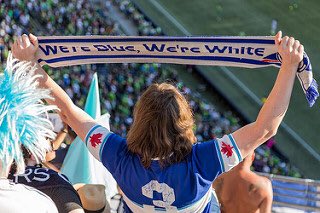 Fellow Southsiders,
it is my greatest pleasure to welcome you to the 17th year of our unwavering support of the best soccer club in Vancouver, Canada, Cascadia, North America and the whole World (maybe just top 25 of that :P).
The Whitecaps are getting into this season as Champions of Canada, and aiming high to not only defend that title, but to fight to get the Cascadia Cup back, and of course to add shiny new trophies to the case: the Supporters Shield and the MLS Cup.
They are going to get them all, with my support, with your support, with OUR support.
How?
Very minimum:
join the march and get to the stadium on time;
warm up up your voice along with the players;
be loud and proud throughout the game, sing our songs, yell our chants, hold up your scarf, clap your hands, go with the flow;
bring or borrow a flag and wave it.
Some basics:
join #capsOnTour for away games in Cascadia and beyond;
hand out chant sheets in the stadium;
explain why and and how we support in the stadium around you;
take a few extra flags and hand them out around you before the game (and help collecting them afterwards)
Next step:
join our tifo crew to create visual support;
help to prepare and clean up our sections on game days;
help out with the rhythm and visual coordination: join the capos and drummers;
participate in our charitable works to better the community;
ask an executive how you can assist or help out.
And as always:
Don't be a dick.
Let's have a great year supporting our Whitecaps and have a lot of fun along the way with our fellow Southsiders!
Cheers,
Peter