Transportation
Public Transportation
Vancouver has an excellent public transportation system.  It includes trains, buses and a couple of boats.  It is generally clean, safe and a quick mode of transportation.
Fares:  Transit is split into three zones: Vancouver; Burnaby, New Westminster, Richmond, North Vancouver and West Vancouver; and everything East and South including Surrey and the Tri-Cities. During the day, until 6:30pm, travel within one zone costs $2.75, within two zones costs $4.00, and to all three zones costs $5.50. After 6:30pm, the entire region is treated as one zone and only costs $2.75. Child and Senior fares are discounted. Tickets are good for 90 minutes. Buses only take coin and no change is given. At Skytrain and Canada Line Stations the machines will take coin, bill and credit or debit cards. Look into a book of FareSavers, which come in books of 10 for a slightly discounted rate. Full details are at (http://www.translink.ca).
Canada Line: This Skytrain line is an elevated/ tunneled train which runs North-South from the Vancouver Airport to Waterfront Stadium downtown.  Key stations include Bridgeport Station (Transit Hub and River Rock Casino), Broadway-City Centre Station (Broadway St and City Hall) and the three downtown stations: Yaletown, City-Centre (Granville St) and Waterfront Station (transfer for Skytrain and Seabus). Not all trains from downtown end at the airport as some split off at Bridgeport Station and continue to Richmond-Brighouse.  If your destination is the Airport don't get on one of these trains.
Expo Line: The Expo Line Skytrain is a mostly elevated train which runs West-East between Waterfront Station (Downtown) and King George Station (Surrey). Key Stations include Metrotown (massive mall with 450+ shops), Patterson Station (Swangard Stadium), Broadway Station (Transfer to the Millennium Line Skytrain), Main St Station (Amtrak Train Station), Stadium-Chinatown (BC Place) and the other three downtown Stations (Granville, Burrard, and Waterfront).
Millennium Line: The Millennium Line Skytrain shares track from Waterfront station until Columbia station in New Westminster, where it continues east in New Westminster before turning north  back into Burnaby and looping back to Commercial Drive and on to Clark Station. Key Stations include Commercial Drive (transfer to Broadway Station), Sperling Station (Burnaby Lake), Production Way Station (SFU), Broadway Station (Transfer to the Millennium Line Skytrain), Main St Station (Train Station), Stadium-Chinatown (BC Place), and the other three downtown Stations (Granville, Burrard, and Waterfront).
Seabus:  The Seabus runs between Waterfront Station (Downtown) and Lonsdale Quay (North Shore) crossing the Burrard Inlet.  If you're trying to get to North or West Vancouver this is a great way to get there.
Trains, Boats and Planes
Vancouver Airport: YVR is the primary airport in the region with daily flights to almost every major airport in North America and Asia. It is connected to the Canada Line which travels to Downtown Vancouver.  The Airport authority up charges $5 to the ticket if you leave from this station; however, this can be avoided by buying a day pass or a book of tickets from the 7-11 in the basement of the domestic terminal. The tickets are discounted ~20% and you can 'adfare' a one-zone ticket to 2 zones at any Skytrain fare machine. So if there are more than two of you, or you plan on using transit more than just to and from the airport buy the tickets as you will save money.
Bellingham Airport: YVR is nice but you will find that, being in Canada, the costs are outrageous. A cheaper option is Bellingham airport, which is located just across the US border. The airport is serviced by big players like KLM, Air France, Delta and Alaska Airlines, as well as discount airlines such as Allegiant, Horizon and Frontier Airways.  There is a shuttle service, Quick Shuttle (http://www.quickcoach.com/), which runs between Bellingham and Downtown Vancouver for only $39 return.
Seattle Tacoma Airport: SEA is a major airport to the south of Seattle. Much like Bellingham it is often much less expensive than Vancouver Airport and like Bellingham, Quick Shuttle (http://www.quickcoach.com/), runs a shuttle service to Downtown Vancouver for $86 return.
Abbotsford Airport: YXX is a secondary airport about 90 minutes from Downtown Vancouver with daily flights to Western Canada and Vancouver Island.  It doesn't interface well with traffic so unless you have someone picking you up or are in love with renting a car avoid this option.
Pacific Central Train Station: This VIA rail terminal is located just on the outskirts of Downtown Vancouver on Main St beside Main St Skytrain Station.  From this train station there are two trains daily to and from Seattle and Portland on the Amtrak Cascades (http://www.amtrakcascades.com/). There are also a number of passenger trains to Jasper, Edmonton, Saskatoon, Winnipeg, Toronto, Montreal and the Maritimes on VIA rail http://www.viarail.ca/en/stations/rockies-and-pacific/vancouver) if you are completely insane.  The terminal also is a Greyhound ( http://www.greyhound.ca/ ) station which should get you almost anywhere.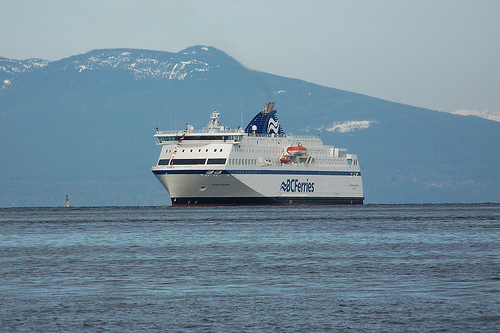 Vancouver Cruise Ship Terminal: Vancouver is the only Alaskan home port offering both one-way and round-trip cruises through the picturesque Inside Passage, along the west coast of British Columbia. If you fancy a trip to Alaska the cruise ship terminal is on the north end of downtown between Waterfront Station and the new Trade & Convention Centre.
BC Ferries: There are two BC Ferries terminals located within about 30-45 minutes of downtown Vancouver.  One is in Tsawwassen and serves Vancouver Island (Victoria and Nanaimo) and the Gulf Islands.  The other is at Horseshoe Bay and serves Vancouver Island (Nanaimo) and the Sunshine Coast. The routes can get busy during the summer, so be sure to check the schedule before setting out to avoid a lengthy wait.