As interest in the Southsiders continues to grow, we recognize that we have an amazing opportunity to make some positive changes and contributions in our community.
That's why, although we are not a charity ourselves, we have formed the Vancouver Southsiders Charitable Causes Committee. This team of dedicated volunteers is responsible for overseeing a variety of charitable initiatives that will provide meaningful support to great causes, whether they be local, regional or international in scope.
Our focus for 2012 is the Vancouver Street Soccer League, an organization which exemplifies how soccer has the power to change lives.
From their website:
"The Vancouver Street Soccer League uses soccer to inspire and empower. Our league is made up of teams that provide friendship for the homeless, physical fitness for the ill and addicted, direction for at-risk youth, and cultural focus for other unique communities such as inner-city First Nations people. There's a reason why soccer is known as the 'beautiful game' – the beauty is that it can enrich people's lives. We're here to get the ball rolling…"
The VSSL isn't just a recreational league for people to kick a ball around – it's a means to bring people together to begin building self esteem, confidence, health and hope. It's all about empowering some very vulnerable people to find their way to a better life..
The Vancouver Street Soccer League is also associated with Street Soccer Canada and the Homeless World Cup. This is an organization the Southsiders are proud to support. Stay tuned for details in the weeks ahead about our various fundraising events and projects. If you have any questions, feel free to contact us at admin@vancouversouthsiders.ca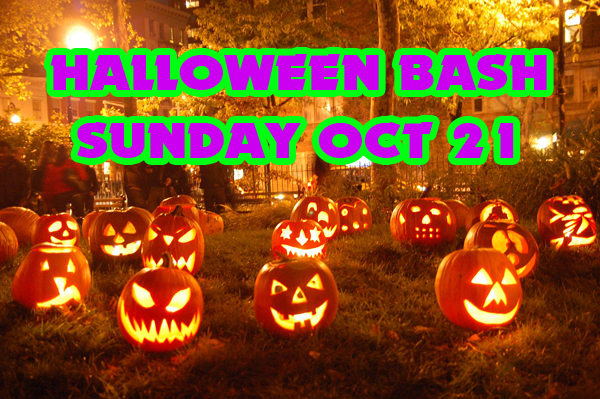 SOUTHSIDERS HALLOWEEN BASH
Sunday October 21 is the Whitecaps final regular season home game (4 pm kickoff). We will have a costumed march to the match from Doolin's, and when it's all over, we'll come back to The Cellar around 7 pm to party the night away!
We're booking a band and a DJ, we'll have prizes for best costume, and there will be a silent auction for some cool swag. We're still finalizing details, but we expect advance tickets will cost $10. Proceeds go towards our charity
efforts to support the Vancouver Street Soccer League and Canada's Homeless World Cup squad.
Costumes are optional but strongly encouraged! More ticket and event details coming soon. Stay tuned! Be sure to follow @Southsiders for all the latest news & updates!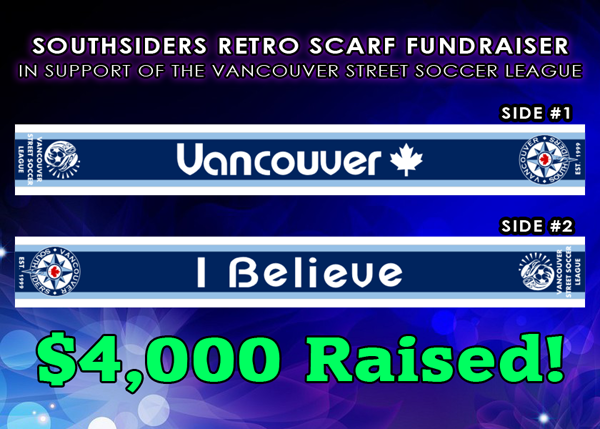 RETRO SCARF UPDATE
Thank you Southsiders! We asked you to step up in support of the Vancouver Street Soccer League by purchasing our "I Believe" Vancouver retro soccer scarves. We are pleased to report we are completely SOLD OUT, and in doing so we have raised $4,000 for this incredible community organization.
We are working with our partners at Soccer Express to connect the Vancouver Street Soccer League with all sorts of team training equipment and other important infrastructure items. This will ensure that all of the VSSL's member clubs have all the tools they need to continue their excellent work providing healthy opportunities for recreation and competition to some of our community's most vulnerable citizens.
Though the scarves may be sold out, you can still support the VSSL by making a donation via PayPal. Please click the link below. Thank you!